Gifts Through the Bell Society
Jennifer Prostoff '11
Retirement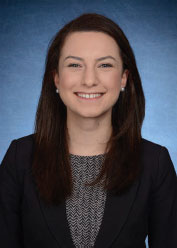 Jennifer Prostoff '11
A lot stands out to Jennifer Prostoff '11 from her time at Peddie, but it was a quote from former English teacher Patrick Clements that she's never forgotten.
"He said to me, 'Peddie will be the last educational institution that loves you back,'" she reflected. "Years later, I realize just how true that is."
The daughter of a single, hardworking mother from Bristol, Pa., Jennifer made a point to take advantage of every opportunity she could at Peddie. A two-year prefect, varsity field hockey player and the chair of Community Service Day, Jennifer was also heavily involved in the arts, spending many hours in Swig honing both her visual and performing skills. Looking back, she knew that her Peddie experience would not have been feasible without significant financial support from the school.
"Peddie was one of the greatest gifts I could have been given. It was through financial aid that I was able to attend, and I remain so grateful to the selfless donors who made my education possible," Jennifer said. "My mother was also heavily involved in the Peddie community and would come down frequently in the middle of the week to volunteer. It really set the tone for me."
Today, Jennifer is a rising star in the financial technology industry as a Technical Account Manager at Addepar in New York City. She began her career as a registered client services associate at Morgan Stanley, handling a large portfolio of clients while studying for her M.B.A. at night. In her program at University of North Carolina at Chapel Hill, she settles into her coursework at 8 o'clock each night when she ends her work day.
"At times, it's challenging to balance, but I enjoy my job," she said. "When I entered the working world, I understood personal finances in a general way. Now that it's no longer theoretical, it truly resonated with me how generous those individuals were who helped provide me with a Peddie education."
Thus, in 2016, Jennifer joined the Bell Society, naming Peddie as a beneficiary of her 401(k) with Morgan Stanley and looking to support future generations like those who came before her. Today, she remains the youngest member and encourages others to think seriously about their own estate plans.
"There's never a 'right time' to plan for your future. But, if something happened to me tomorrow, I feel happy knowing that the hard work I put in to earning and saving money will benefit future Peddie generations when I am no longer around."