Gifts Through the Bell Society
James E. Braunworth '45
Charitable Gift Annuity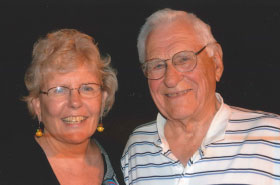 James E. Braunworth '45
James E. Braunworth '45 first advanced a bequest intention into a charitable gift annuity in 2007. He realized the value – to both himself and Peddie – so much that he has since established two other gift annuities, naming himself as beneficiary and each of his daughters as consecutive beneficiaries – a 65th birthday present to each of them.
"I am forever grateful for my Peddie experience in the days of Headmaster Wilbour Saunders. That is why I have established charitable gift annuities at the school. The payments come to me like clockwork, and I like knowing that down the line, the balance will help Peddie indefinitely."
A charitable gift annuity is a simple contract between you and Peddie School. In exchange for your gift of cash or appreciated stock, Peddie will send fixed payments to you and/or a loved one for life. If you're still working, you can fund a gift annuity today and defer payments until you retire. It is also possible to create a gift annuity in your will for a surviving spouse. This planned gift is one of our most popular ways to join the Bell Society!