Legal Name: Peddie School
Peddie's Tax ID: 21-0634492
Date of incorporation: June 23, 1879
Address: 201 South Main Street, Hightstown, NJ 08520-3349
Gift Planning Menu
Gift Planning
Legal Name: Peddie School
Peddie's Tax ID: 21-0634492
Date of incorporation: June 23, 1879
Address: 201 South Main Street, Hightstown, NJ 08520-3349
Gift Planning Volunteers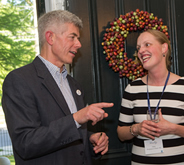 Headmaster Peter Quinn with
CGPC Sara Probasco Olson '95
on May 30, 2014, Reunion Weekend.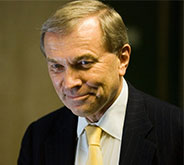 Henry Christensen III, Esq. '62 ( November 8, 1944 - November 3, 2017)
We are deeply grateful for Terry's extraordinary service to the PGC which he founded in 1997 and chaired for 20 years. His legal acumen, thoughtful problem solving and sensitivity to the human spirit will be greatly missed. We all stand taller for having known Terry.
Some special Bell Society members have become volunteers for the gift planning program! The two groups of gift planning volunteers are the Planned Giving Committee and/or Class Gift Planning Chairs.
Planned Giving Committee ("PGC")
The Planned Giving Committee (the "PGC"): The PGC members encourage alumni and friends to join the Bell Society. Aware of ways to qualify for membership, these dedicated Bell Society members can be called upon to explain to classmates and friends ways to name Peddie as the beneficiary of various planned gifts to benefit the donor and the school, alike. Members of the committee are:
Charles J. Ascher '52
William D. Brick, Esq. '87
Douglas E. Davidson, Esq. '64
Mark Gartner '84, Teacher
John E. Holobinko, Esq. '60
Amy S. Mauser '84
Sara Probasco Olson '95
Kevin F. Sanderson '92
Dr. Eugene A. Scanlan '60
Timothy H. Starkey '96
John H. Taylor P'10
Thomas C. Wallace '51
Class Gift Planning Chairs ("CGPC")
Class Gift Planning Chairs ("CGPC") enjoy speaking with classmates and inspiring them to join the Bell Society. Most class receive a letter annually from the Class Gift Planning Chair or Bell Society Chair, Charles J. Ascher '52. Ask your class volunteers how they remembered the school through their estate plans. If you wish to speak with your Class Gift Planning Chair, please inform the Alumni & Development Office by calling 800-322-1864.Thank you.
1945 - Mr. James E. Braunworth
1947 - Mr. David M. Cunningham
1950 - Mr. Ian H. Graham
1951 - Mr. Thomas C. Wallace
1952 - Mr. Charles J. Ascher
1953 - Mr. Robert E. Werner
1954 - Mr. Robert M. Kaye
1956 - Mr. George D. Entin
1957 - Mr. Michael R. Armellino
1959 - Mr. Lloyd L. Reynolds, Sr.
1960 - Dr. Eugene A. Scanlan & John E. Holobinko, Esq.
1962 - Mr. Peter A. Terry
1963 - Arthur E. Brown, M.D.
1964 - Douglas E. Davidson, Esq.
1965 - Dr. Ian Lambert
1966 - Mr. Allan D. Feldman
1969 - Mr. L. Frank Blaisdell
1970 - Mr. Roy D. Grossman
1972 - Mr. Sandor A. Balogh
1973 - Mr. Geoffrey H. Moses
1980 - Mrs. Karen L. Yingling
1981 - Mrs. Linda C. Marshall
1982 - Ms. Patricia E. Eastburn
1983 - Mr. Richard C. Leitz Jr.
1984 - Mr. Mark Gartner
1987 - Mr. R. Brian Minor
1991 - Stephanie E. Martin
1992 - Mr. Kevin F. Sanderson
1995 - Sara Probasco Olson
1996 - Timothy H. Starkey
2002 - Mr. William F. Patterson
Parent Chair - Mr. John H. Taylor P'10